Business Etiquette and Professionalism
Overview:
Would you like your team to learn the correct business etiquette for interacting with colleagues in various situations?
Do you need them to be more professional at work, in meetings, and via email and phone?
Could they improve their skills when managing the challenges of multicultural diversity in your organisation?
Then this is the course for you.
The skills and knowledge that are gained in the Business Etiquette and Professionalism Course will allow your team to hone a professional and crisp demeanour at work.
The topics covered in the Business Etiquette and Professionalism course include :
The principals of professional behaviour
How to always be your best
Meeting and greeting
Interview etiquette – what to do before, during and after job interviews
Planning and attending business meetings, including office meetings and meal meetings
Electronic etiquette – working with voicemail, phones and emails
Multicultural etiquette – defining the challenge
Five steps to dealing with diversity
Guidelines for managing diverse relationships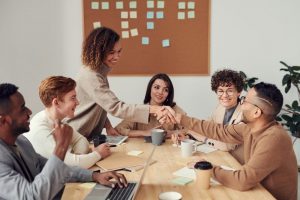 The Benefits of Business Etiquette and Professionalism Training Courses
Consider the benefits of investing in a course for your workplace that teaches your team proper business etiquette, and how to act professionally at work.  The benefits you will see include:
Showing your employees you value them, and care about their skills development, by providing staff training.
Employees who practice professional behaviour will better understand the impact they have on both external and internal customers, when meeting and greeting.
Engage your team more, and provide them with the motivation to do an excellent job.
Enhance their skills when planning and attending meetings.  Your employees can improve their meeting skills, and acquire new ones, through a course that highlights planning and attending business meetings.
Understand Electronic Etiquette.  Provide your employees with the skills to work at a professional level when using email, making phone calls, and leaving messages via voicemail.  Your customers will remember and appreciate your team's professionalism, increasing their loyalty to your organisation.
Define the challenges of Multicultural  Etiquette.  Learn 5 steps to dealing with diversity, and provide guidelines for managing diverse relationships at work.
Why choose Corporate Training Options for your Business Etiquette and Professionalism Training?
It's important to have a partner who can pinpoint the training you need and how best to deliver it.
Corporate Training Options understands that your business results hinge upon how successfully your teams perform. Our team of more than 200 professional facilitators can interpret the specific needs of your organisation, and how to train your team successfully, to achieve the changes you need to see.
As one of Australia's premier training organisations, CTO has worked with over 7,000 clients around Australia.  We present training experiences that engage both large and small groups, and fuel active participation and motivation, right through to assessment and recall.
So, if you're ready to invest in your team, providing them with professional development programs which allow them to perform better, and prepare them for positions of greater responsibility.
Corporate Training Options can offer friendly, professional advice. We'll discuss your needs, and tailor your training to suit your requirements.
Contact us today to book your tailored customer service training program.
Course Details:
Level:
This course has only one level
Related Course:
Learning Outcomes:
When you complete this course you will have achieved a number of learning outcomes.  You will have the knowledge to:
Discuss business etiquette and its role
Understand correct professional behaviour including meeting and greeting, the sending of social invitations to associates and how to always be your best.
Know how to manage job in interviews, from understanding the interview process, to what to do before, during and after the interview.
Understand the correct planning of business meetings and the correct protocol for attending meetings which take place in the office, as well as meal meetings
Learn professional electronic etiquette which covers the professional use of voicemail, phones and email communications.
Be aware of multi-cultural etiquette, which covers how to deal with diversity and how to manage diverse relationships in the workplace.
Prices:
| Trainees | Price | |
| --- | --- | --- |
| 1-3 trainees | $1,999 | per day |
| 4-20 trainees | $2,999 | per day |
| Each additional trainee | $499 | per day |