Your 5-Point Computer Training Plan
You 5-Point Computer Training Plan – when you need training for your team.
By: Corporate Training Options, Australia
A Computer Training Plan is important for all of us.   Especially if you have recently installed new software, or upgraded to a new version of your software.
If you're in charge of organising workplace training sessions for your team, then this 5-Point Computer Training Plan will help you prepare for it.
Successful Training is planned in advance
Training your staff effectively is critical to your teams' ongoing education, their job satisfaction, and their ability to achieve in their role. It's also a strategic investment in the long-term success of your organisation.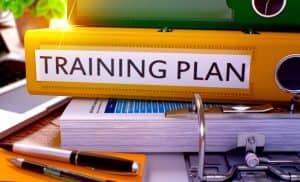 The most effective training sessions are well-planned and prepared in advanced.  Once you have booked you computer training course with CTO, you can then work with your trainer to plan your course to suit your requirements.
The points covered in this training preparation plan will help you arrange an effective computer training session. It will also ensure your training runs smoothly, to deliver the best return on your investment.
Advise us of your specific needs
The benefit of booking in-house computer training with CTO, is that the training can be customised to suit the specific needs of your organisation. It therefore will be beneficial if you can fully brief CTO on your requirements, prior to your training session.
Produce a list of key topics that need to be covered.  You can create this list by discussing the matter with the trainees attending the course, their manager, or someone in your organisation who already has the skills the attendees are looking to acquire.
Send examples of your work to CTO before the training.  This will give your trainer a good idea of the kind of documents your staff will need to create or edit. We can then incorporate your documents into practical exercises for your course.
For example, if your staff are learning how to create corporate brochures, the trainer could assist them to create pages from some of your typical brochures during the training.  This will allow your trainer to check that your trainees are mastering the relevant techniques.
Plan your training area
Set up a suitable area where you can conduct your computer training session.   This needs to be an environment where the trainees can concentrate on learning without interruption or distraction.
If your organisation does not have a training room, then a meeting room can be adapted for the purpose. Delegates should be able to comfortably see the trainer from their seats.
Each trainee should have the use of their own workstation or laptop for the duration of the course and enough space to use it.
A computer connected to a data projector for the trainer is extremely useful. A group of 1-3 trainees can easily gather around a shared computer screen.  However, groups of 4 or more will find a data projector necessary.  A whiteboard and pens are also helpful.
Your Training Software
The correct version of the software should be loaded on each person's computer and, ideally, everyone should be using the same version of the software. For example, running a course on Microsoft Excel where some delegates have Excel 2013 and others Excel 2016 could be challenging, since there are differences between the two versions.
However, rest assured that if you do have different versions of the software in your business, your CTO Trainer does know both versions, and will be able to manage the training for your team, pointing out the version differences during the course.
Brief your training delegates
For your computer training to be effective, delegates must be available for the duration of the course.  They should ideally be off-limits to other members of staff. One way to achieve this is that they should be treated as absent from the office, until their course ends.
Equally, they should be motivated to do the training and agree that it will benefit them.  They need to believe that acquiring the new skills provided by the training will help them to work more effectively.
It's not a good idea to add a few extra bodies to a training session just to make up the numbers. It is far better to include just those delegates for whom the training will be relevant and useful.  More focussed, smaller groups also allows your trainees to receive more personal attention from the trainer.
Timing
Finally, to be effective, in-house computer training should be timely. Computer users should attend a course at a time
when they are about to start using the software or using it in some new or more advanced manner. Immediately following their training, they should also have the opportunity to implement what they have learned.
They should have the software available on their own computers and there should be a requirement for them to use it as part of their daily routine.
If they don't actually use the software for weeks or months after attending a course, the benefits of the training can be almost entirely lost.  This may lead to them needing to repeat the training session.
—
You can improve your computer skills with CTO's extensive range of computer training courses, covering software that is used in business organisations around the world.
For more information on the Computer Training Courses available, please visit the CTO website – cto.com.au
With just a little advance planning, you can achieve a great return on your investment in training for your team.
—
About Corporate Training Options
Corporate Training Options (CTO) is an Australian Professional Development and IT Training Company, which provides customised, workplace training courses Australia-wide.
The courses provide a cost-effective way of ensuring you and your staff are making the most of your software applications.
CTO's Computer Training courses are tailored to meet your requirements, and your training is provided on-site, on dates which suit you.
We look forward to working with you, to increase your productivity and  build your confidence in using your computer software.
For more information on the range of Computer Training Courses available, please visit the CTO website – cto.com.au
Rosy King
Corporate Training Options
Professional Training  –  Exceptional Results